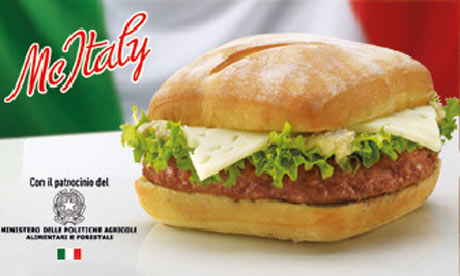 I ran across
this January Mark Bittman post on the McItaly
, McDonald's lame attempt to tailor a sandwich to the Italian palate. What makes it Italian? Why the artichoke spread and Asigao cheese.
The post led me to
another page featuring dozens of other McDonald's country-specific products
. There's the Asian ebi (shrimp) burger:
Malaysia's "Double Prosperity Burger":
and the Saudi Arabia's McArabia:
I have confess, this one doesn' t look so bad, although that meat looks awful slimy. One hundred lashes if you don't love it.
I confess a grudging admiration for McDonald's imagination and energy in subverting and dumbing down local food traditions. I'm Lov'n it!