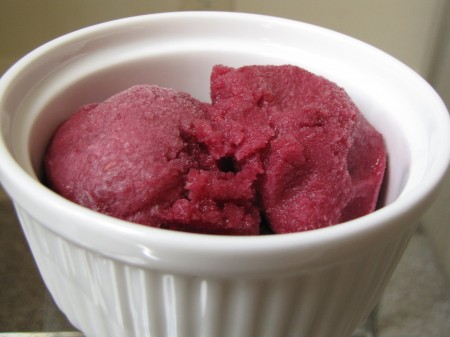 Our friend Kerri, who is a vegan, came to dinner last night. Main course was easy: homemade marinara and spaghetti, salad and garlic bread painted with olive oil instead of smeared with butter. I browned ground beef in a separate pan and added to ours.
The challenge was dessert. Our kitchen is bursting with Christmas cookies and confections, all containing dairy products that Kerri does not eat. What to make that would be tasty, quick and animal free?
The solution: sorbet. I'd never made sorbet before, but I'd long wanted to try. Plus I still have two giant bags of raspberries in the freezer from our berry-picking expedition last fall.
Obviously, the berries -- especially raspberries -- would need a lot of sugar. I consulted several cookbooks and concluded that I needed to make a syrup. How many times have we heard that on Top Chef or Chopped? The chef needs to throw together something sweet and he or she says, "I decided to make a simple syrup."
I can report it really is that simple. I put two cups of sugar and one of water into a pot, brought to a boil and stirred. After about a minute, I had clear, sweet, somewhat
viscous
syrup that tasted wonderful.
How easy. I couldn't help think this is one of those basic, simple recipes that has been lost over time. Who needs processed drinks and
pre
-
sweeted
foods when it's so easy to make your own all-purpose
sweetener
?
I pureed two cups of raspberries and pushed the dense red liquid through a sieve. I then added a tablespoon of lemon juice and put the mixture in the fridge to cool. After about an hour, I took it out and added about half a cup of syrup. It tasted perfect, sweet, but not overwhelmingly so, with a powerful raspberry flavor.
I put the mixture in my ice cream maker and in about 20 minutes had about 1 1/2 cups of soft, dark red sorbet.
It was a huge hit. Kerri, my daughter and I all had some, scarfing it down in record time.
A wonderful, relatively quick and easy dessert. And I can't wait to make some lemonade with the remaining syrup.